"Student" and "Dependent" Visa holders are not allowed to work, but they may apply for Part time Work Permission – "Permission to Engage in Activity other than that Permitted under the Status of Residence Previously Granted".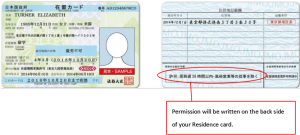 When should I apply?
Before starting part time work (including a paid internship)
What kind of work will be permitted?
Any type of work except the work related to the adult entertainment industry (working for night clubs, hostess clubs, pachinko parlors, adult entertainment internet businesses, escort services, telephone based dating services etc)
Maximum work hours permitted is 28 hours per week (For "Student" Visa holders, 8 hours per day during school long-term vacation specified in the school regulations)
What would happen if I won't apply?
Any person who is engaged in activities not permitted under the Visa (Status of Visa) without obtaining the permission, may be deported as well as criminal penalty.
 Where to submit?
The regional immigration office (Ministry of Justice, Japan) in charge of the applicant's address
* Student Visa holders, entering Japan for the first time, may submit at the airport or the port of entry.
Who can submit?
Applicant
Legal representative
Certified Japanese attorney or Immigration lawyer like us etc.
Necessary Documents
Document material that proves the intended activity (Employment contract etc)
Passport and Residence card
Student Card (For "Student" Visa holders)
*There could be other necessary documents depending on each individual case.
Processing Time
2 weeks – 2 months
Fee for Part time Work Permission
Free of charge (If you appoint a lawyer to Visa application, you need to pay the additional fee)